Hot Tub Covers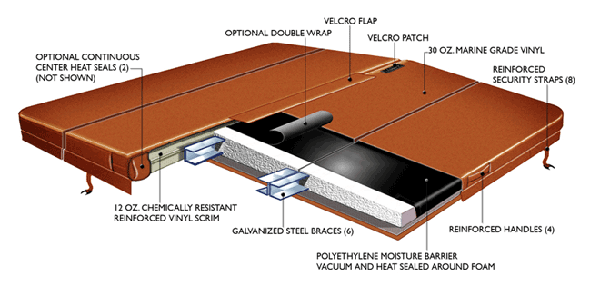 Hot Tub Covers For Harsh Nova Scotia Climate
Master Spas Brand Hot Tub Covers
Hot Tub Universe provides top quality, durable hot tub cover replacement at an affordale price. Our covers are among the lightest in the industry and come in a varity of colors.
We offer unique models that can be custom fitted to your outdoor spa. They come in all shapes and sizes. All hot tub covers we sell are built to withstand the the harsh Nova Scotia climate. Not every cover you find on the Internet will last in our weather.

Superior Hot Tub Covers
Superior design and materials make our spa covers the best, most long-lasting spa cover you can buy! Our hot tub cover replacement for your spa brand without the hassle of measuring. Simply let Hot Tub Universe know your brand and model and you'll be assured of an excellent fit.
We Carry The Following Master Spas Covers
570, 670, 6900 Cedar, CLS-360 - Clarity Spas, CLS-524 - Clarity Spas, CLS-730 - Clarity Spas, CLS-730L - Clarity Spas, CLS-738 - Clarity Spas, CLS-738L - Clarity Spas, CLS-855 - Clarity Spas, CLS-855L - Clarity Spas, CLS-1055 - Clarity Spas (3 Panel), CLS-1055 - Clarity Spas (4 Panel), CLS-415 , CS 650, CS 700, CS 750, CS 800, CS 850, East Hampton, Essex, Firelake, HL 616, HL 620, HL 624, HL-7 - Healthy Living Hot Tubs, HL-7.5 - Healthy Living Hot Tubs, HL-8 - Healthy Living Hot Tubs, HL-8.5 - Healthy Living Hot Tubs, Little Harbor, LS 1000, LS 1050, LS 1557, LS 1650, LS 650, LS 700, LS 750, LS 800, LS 800 STS, LS 850, LSI, LSS 750, LSS 825, LSX, LSX 557, LSX 700, LSX 800, LSX 850, LSX 900, LS2X, LSXS, MP Force - Michael Phelps Series (5 Panel), MP Impact - Michael Phelps Series (4 Panel), MP Momemtum - Michael Phelps Series (5 Panel), MP Signature - Michael Phelps Series (5 Panel), MP Signature S - Michael Phelps Series (5 Panel), Trainer 12-H2X (3 Panel), Trainer 14-H2X (4 Panel), Trainer 15 (4 Panel), Trainer 17-H2X (5 Panel), Trainer 18 (5 Panel), Trainer 19-H2X (5 Panel), Twilight Series, TS 120, TS 240, TS 6.1, TS 6.2, TS 67.15, TS 67.25, TS 7.1, TS 7.15, TS 7.2, TS 7.25, TS 8.2, TS 8.25, TS - 8.3, TS 8.35, TS FIT (3 Panel), TSMP (3 Panel), TX 87.3
Contact Us
Hot Tub Universe
3 Holland Road
Fall River
Nova Scotia
B2T 1J3

Hours Of Operation
Monday: 10:00 a.m. to 6:00 p.m.
Tuesday: 10:00 a.m. to 6:00 p.m.
Wednesday: 10:00 a.m. to 6:00 p.m
Thursday: 10:00 a.m to 6:00 p.m
Friday: 10:00 a.m to 6:00 p.m
Saturday: 10:00 a.m to 6:00 p.m
Sunday: Closed all day

Social Media
Twitter
Facebook
Our advice site
Contact Chris Wheatley
Office: 902 576 5115
Fax: 902 576 3303
Email: chris@hottubuniverse.ca